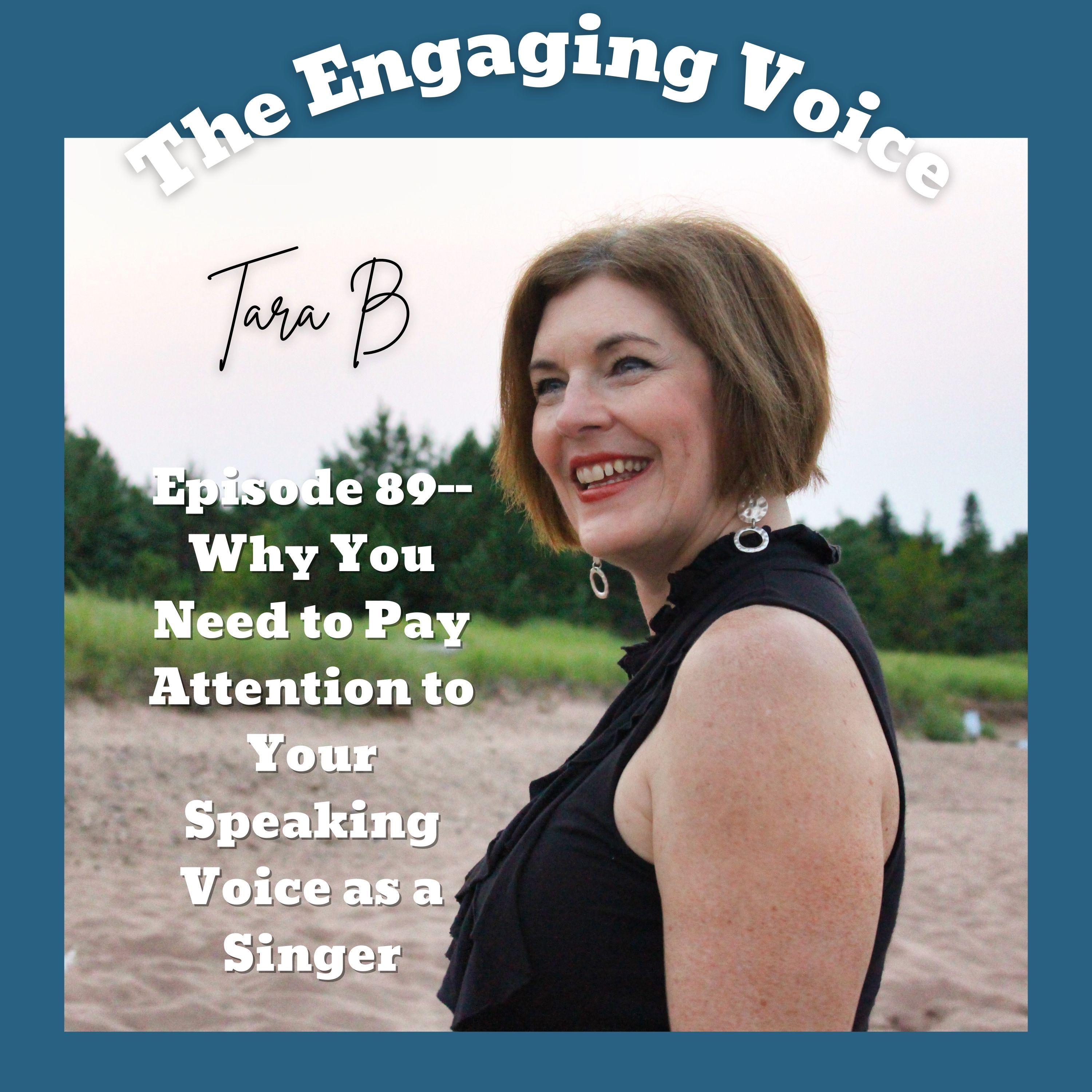 In today's episode,Tara chats about our speaking voices. As singers, we need to take equal care with how we talk so that it doesn't cause problems for us when we sing. 
You can Find  The Singer's Feedback Zone here: 
https://tarab.vipmembervault.com/products/courses/view/21 
Let me help get you to that next level of singing! 
The Speaking Voice—Paying attention to it: 
You may get a hoarse voice from shouting at a sporting event, screaming at an amusement park, or having to talk over other competing sounds in a restaurant. When we talk too loudly, we put too much pressure on our vocal folds—too much air pressing through, creating a tired voice. 
Talking too low can also hurt our voices. It puts a strain on the vocal folds by constantly putting pressed air through the entire vocal fold and having them at their thickest. We may push it out with the musculature of the throat versus good support. It pushes the larynx down—not keeping the layrnx neutral. 
Talking too high for your natural voice. With anxiety or nervousness, it can force you voice higher and again puts pressure on the larynx going up. Tension is created and that's why it's going up. It makes you have vocal fatigue or soreness. 
Vocal fry. Even though it's not necessarily bad, but it can create your vocal memory doing something without enough breath support even in your singing because it's remembering your speaking voice.  The article from John Hopkins Medicine: "When you use vocal fry, you relax your vocal cords but do not increase the amount of air you're pushing past your vocal cords, which produces slower vibrations and ultimately results in the lower, creaky sound." 
Talking in a breathy soft sound. It's similar to vocal fry where not a lot of breath pressure happens. But the problem is that the voice gets held back, creating tension. It tries to control so it's not too loud and therefore creates rigidity in the voice. That creates a lack of resonance as well—resonance that "brings the voice to life". 
"So much of singing is about letting go of trying to control, 'cause controlling can create that tension. We want to be tension-free." 
"The way that we use our pitches—our brain is also remembering every day—it's remembering how we use our breath… and so we will tend to repeat what we did the day before." 
"Your speaking voice IS your singing voice so don't treat it differently!" 
You can listen on Amazon Audible music, Google Podcasts, Apple Podcasts, iHeart radio, PlayerFM Stitcher, Spotify and more. If you are willing to rate and review this podcast, please do where you listen. Or share it to social media and tag me. 
Instagram: @tarabrueskemusic        TikTok:@tarabrueskemusic