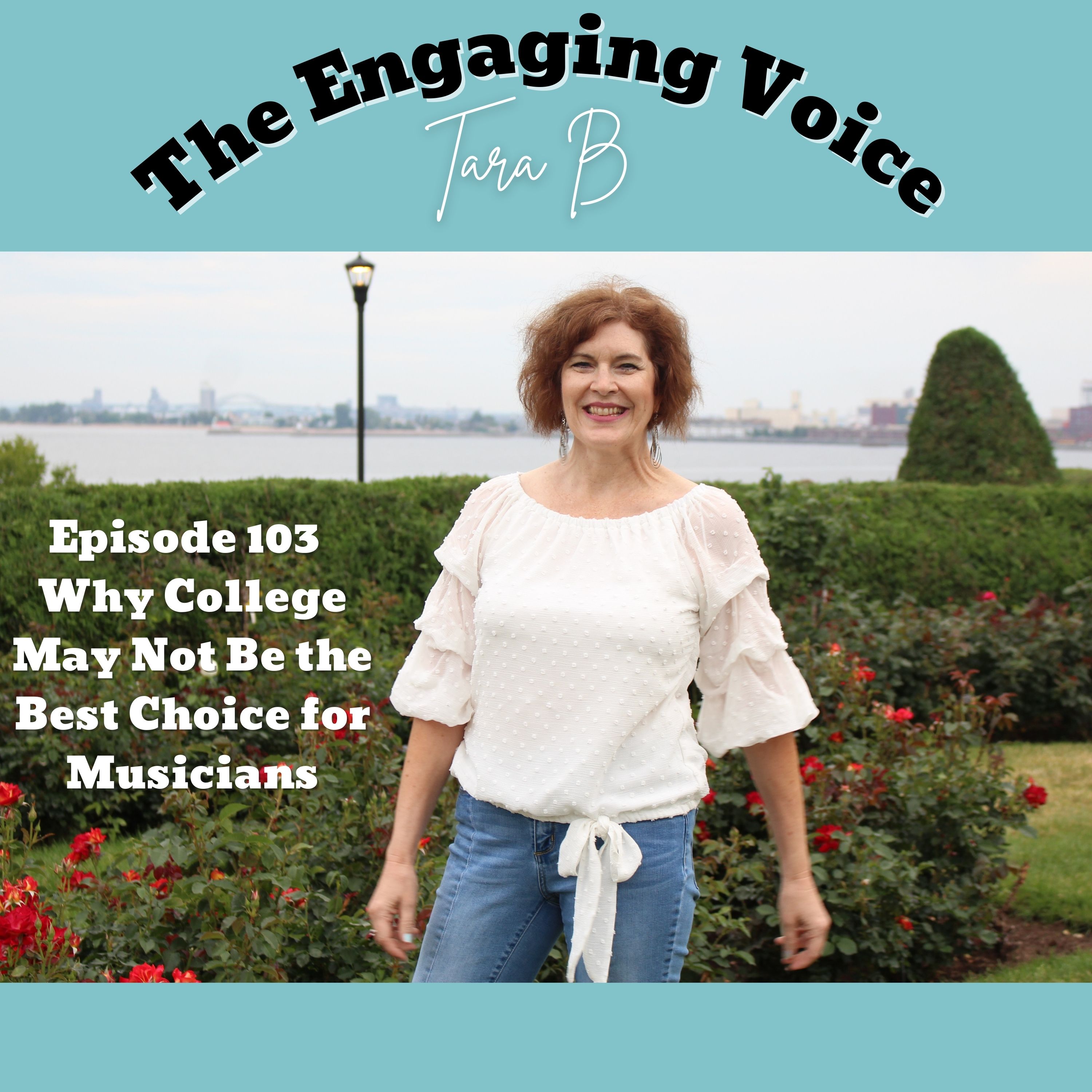 In today's episode,Tara chats about an alternate way of educating yourself to become a professional musician that doesn't include the college route of a music degree. Tara herself, having a Music degree and yet being in the music biz for over 30 years, gives the listener her take on why college might not be the best way in today's world of music performing.
The costs of a college degree is super high compared to what you might make as a musician seeking your own gigs or teaching studio. It can take time to build your own business as a performer and that means not a salaried income coming in.
The pursuit of a college degree is time consuming. You can't put extra time into learning about many things of the music biz, from networking to producing your own music and shows.
The music industry has many changing features, including technology and social media that may not be covered in college.
You may not be able to pursue different genres of music where you would study that specific history and get training in folk, jazz, country, etc
You might want to do something more out of the box like opening your own music studio or publishing and selling music and you won't get much help through a college degree.
Marketing yourself, learning how to get albums out, creating a website,  learning how to book yourself and more are not usually learned at college.
Time management for a music performing biz is hard to do with keeping up with studies, paying for that education and then actually trying to create a music career.
College can have a political agenda instead of having an educational foundation. They are often more interested in promoting a political ideology instead of focusing on what your major is.
What you can do:
Partake of free podcasts, free challenges and bootcamps on social media and getting fans to an email list, read books on the different subjects. Seek out mentors in the music biz—coaches who help you in biz, coaches who help you learn your instrument, coaches who teach you how to be a great performer. Purchases online courses for marketing, writing, songwriting, booking gigs, auditioning, podcasting, how to do social media, and how to find other music producing income, and more.
If you want further help, please reach out to me for a Zoom meeting through Premier Performer VIP. Link here: https://tarab.vipmembervault.com/products/courses/view/22
You can listen on Amazon Audible music, Google Podcasts, Apple Podcasts, iHeart radio, PlayerFM, Spotify and more. If you are willing to rate and review this podcast, please do wherever you listen. Or share it to social media and tag me.
Instagram: @tarabrueskemusic   
Facebook: @tarabmusician