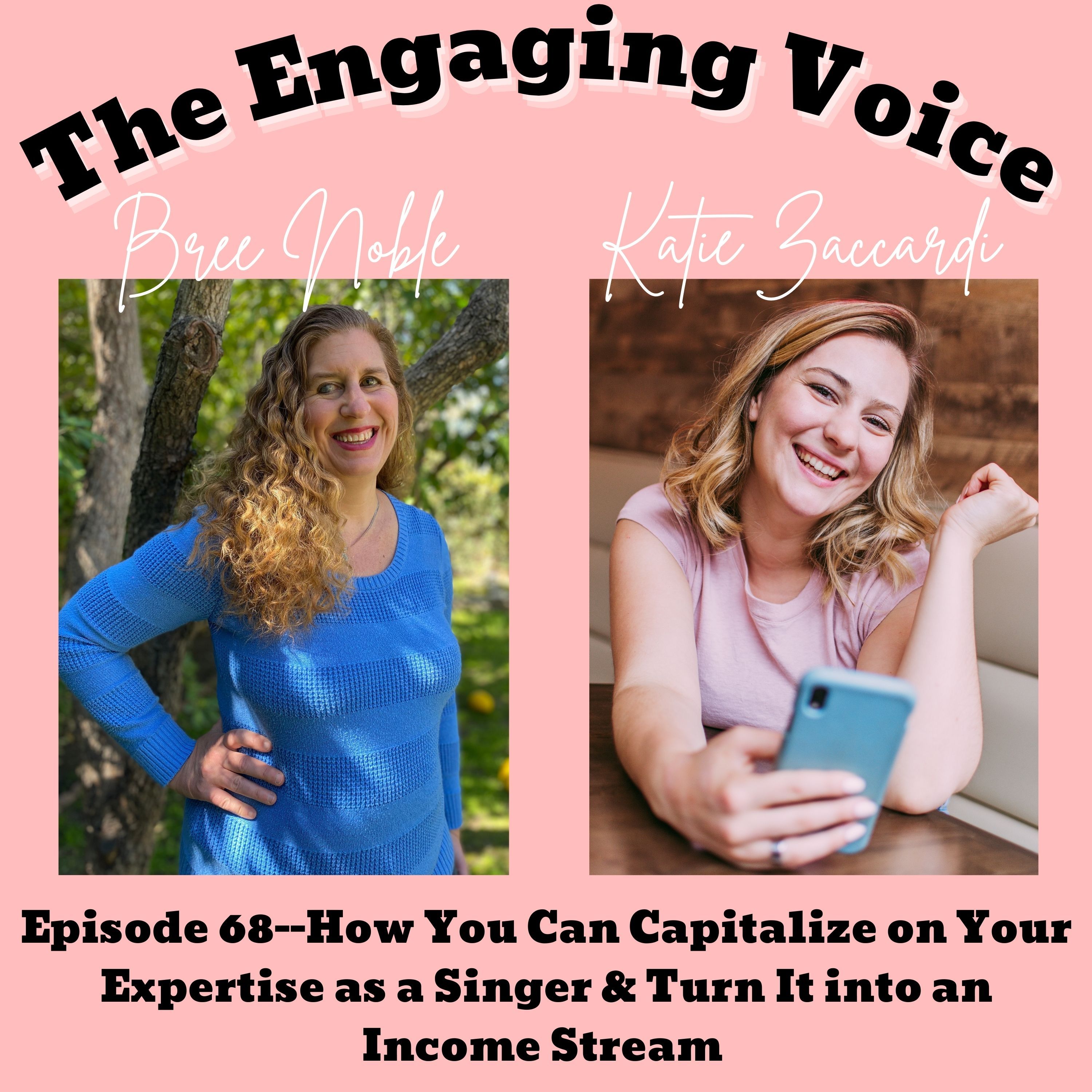 In this week's episode Tara speaks with pro music biz coaches Bree Noble and Katie Zaccardi all about the ways of exploring what skills you have as a singer and musician and then how you can turn it into teaching or coaching, adding to your income stream! They chat all about the ins and outs and finding ways to make it happen for you! 
My vocal course is NOW OPEN! Click here for access: 
And if you want 50% off the course, click here to get on my newsletter: 
How to know when you are ready to teach: 
"It's hard to know until you try it." (Bree) on knowing when to teach. 
She says to get past imposter syndrome and be willing to acknowledge where you are at and then try it out to see if you enjoy it. 
"I get lit up about teaching marketing and business." (Bree) 
"There are a lot of things that you can teach that aren't necessarily singing…vocal performance…stage presence…" (Katie) 
Katie talks about when people start to ask YOU questions about how to do something, that can be a catalyst to know you are ready. 
How do you find your strengths: 
Knowing what you enjoy and feel passionate about. 
Looking at your own story that you have come through and could help others with. 
How do people set themselves apart from others who are teaching: 
By knowing your identity and your personal experience. Looking at your story and the things that are personal to you—example: being a mom or starting a career later. "You can attract them just by telling your story and talking about the struggles that you went through. They're really going to identify with that." (Bree) 
What are some barriers to starting to teaching: 
Imposter syndrome—putting yourself out there—being willing to say that you can help. 
People often think that the strategy is going to be the issue of starting to teach when really it's the mindset to take the leap and do it with confidence. 
What are some aspects of teaching private lessons: 
One-on-one or private can be the simplest way to start out and will give you the opportunity to see how you actually coach. 
"One-on-one is great because you can meet your client where they are at." (Katie) 
What are some aspects of teaching group lessons/classes: 
In group coaching, they can learn from each other through someone else asking the questions that they needed. 
Also, since people aren't at the same level, they can take the pieces they need and encourage each other. There is a lot of support that can happen. 
"As artists, we are in such an island mentality..It's us against the world…we don't have other people around us that are understanding what we are going through…" (Bree) 
What are ways to get students: 
In person—referrals can be a great way to do it. 
Virtual—you can target anyone anywhere. So you need to be showing up on social media, and connecting with others there.
Also, leaning into your identity to help people find common connection points with you. 
What are things to consider in setup of teaching: 
Making it easy is the best way to start. Don't overthink. Don't get tripped up on the tech. Just do it. 
Use a Facebook group, or do Zoom calls, or Muzie, Or host a course on Teachable, Kajabi, Membervault or other online hosts. 
The most important thing is to: 
Know what you are teaching, have a means to meet with your clients, have a way to reach your clients! 
OUT TO LAUNCH program—opening doors the fall of 2021. 
Here is the link to the free video series: 
http://katiezaccardi.com/videoseries 
http://profitablemusician.com/videoseries 
You can follow Katie here: katiezaccardi.com 
(IG) @katiezaccardi 
The Out to Be Podcast 
TikTok: Katie.zaccardi 
You can follow Bree here:  profitablemusician.com (podcast) 
femusician.com (podcast 
(IG) @profitablemusicianllc